A look at Level Up Coffee Week in the rear-view mirror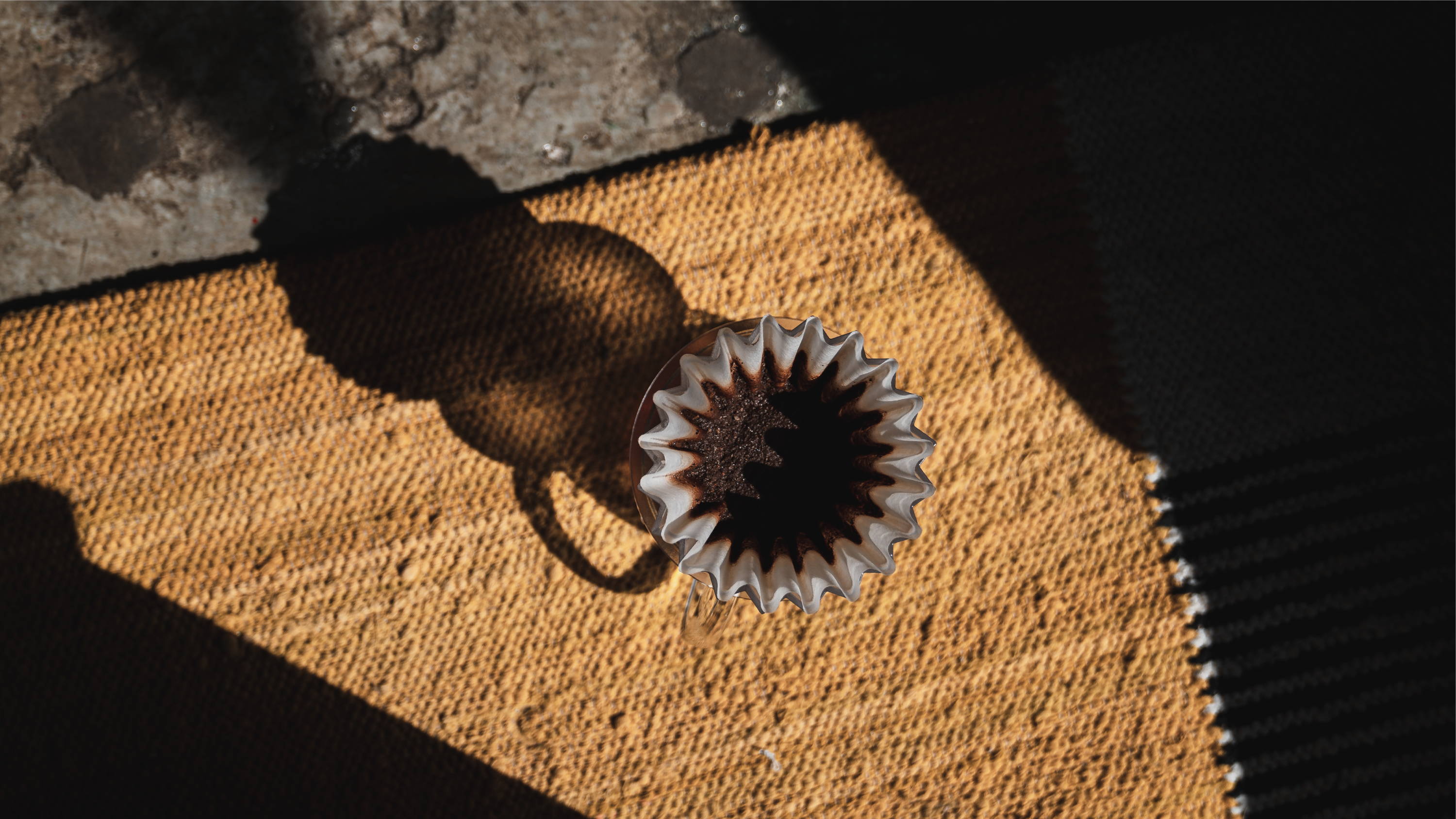 Homeground Coffee Roasters's Level Up Coffee Week started with the intention to bring coffees of exceptional quality to the everyday coffee drinkers that visit our café, with the belief that the enjoyment of amazing coffees should not be restricted only to once-in-a-year coffee competitions and trade shows, but rather more frequently and accessible for the masses.
The truth is, there are a great number of marvellous coffees in the world available that just needed to be brought to the attention of coffee drinkers around us. Be it unique varietals and processing methods at the forefront of innovation in coffee production, or showcasing the quality of a new producing region, the coffees that we have featured all provide top notch cup qualities, and are comparable to the coffees that are used for competitions.
By all accounts, it seems like we have succeeded – observing the changing preferences towards such coffees from when we first introduced Level Up Coffee Week, there has been an increase in demand for higher quality, unique and complex coffees among our customers, and an appreciation of the complex taste profile that these coffees provide, and it is with a satisfied breath that we draw this adventure to a close.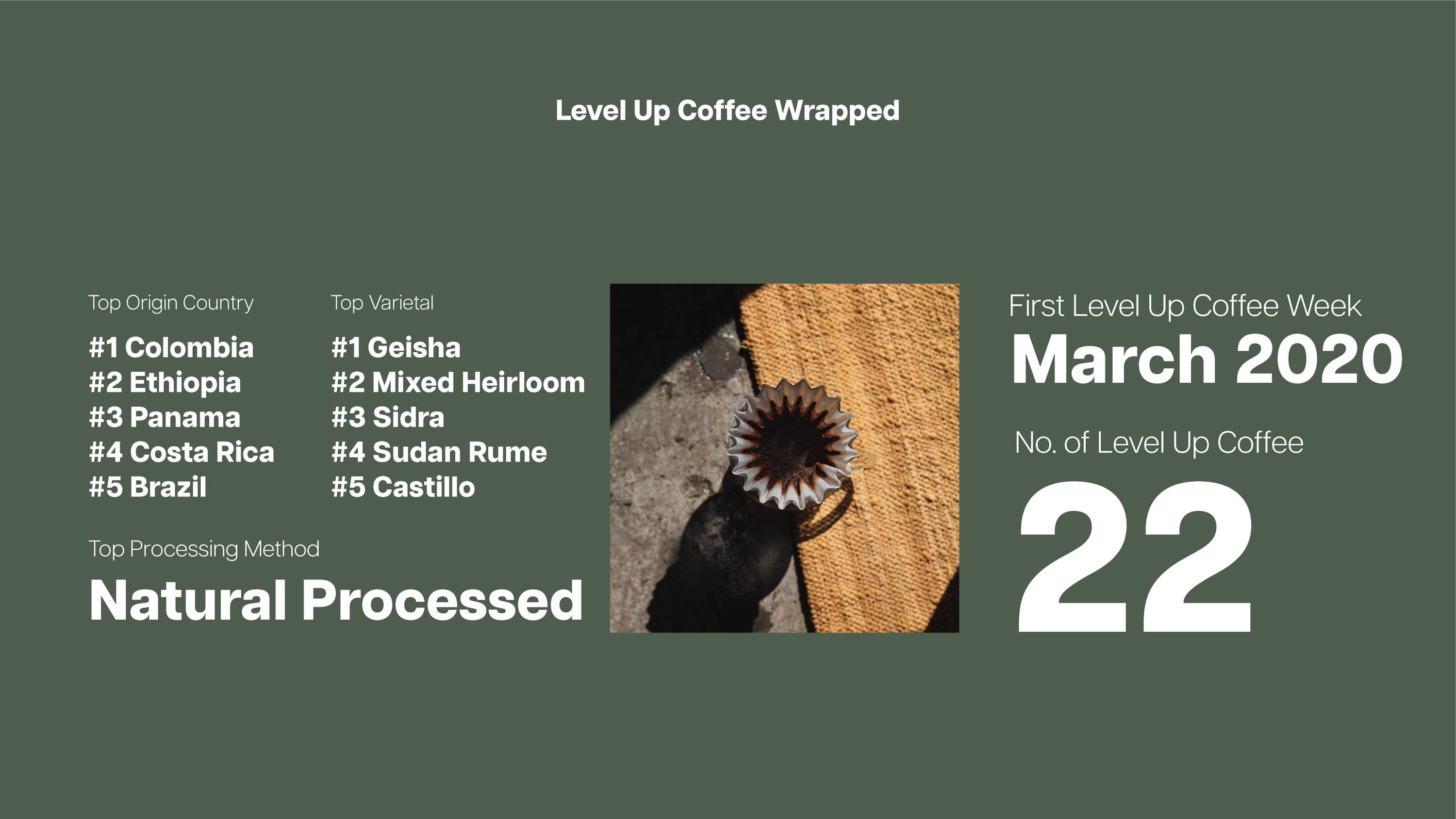 First beginning in March 2020 — excluding some months of hiatus during Singapore's nationwide Circuit Breaker and Phase 2 Heightened Alert — we finally capped off the last of the Level Up Coffee Week this month in May 2022 some 22 different Level Up Coffee Weeks later.
Here are some numbers to commemorate this journey that we have taken: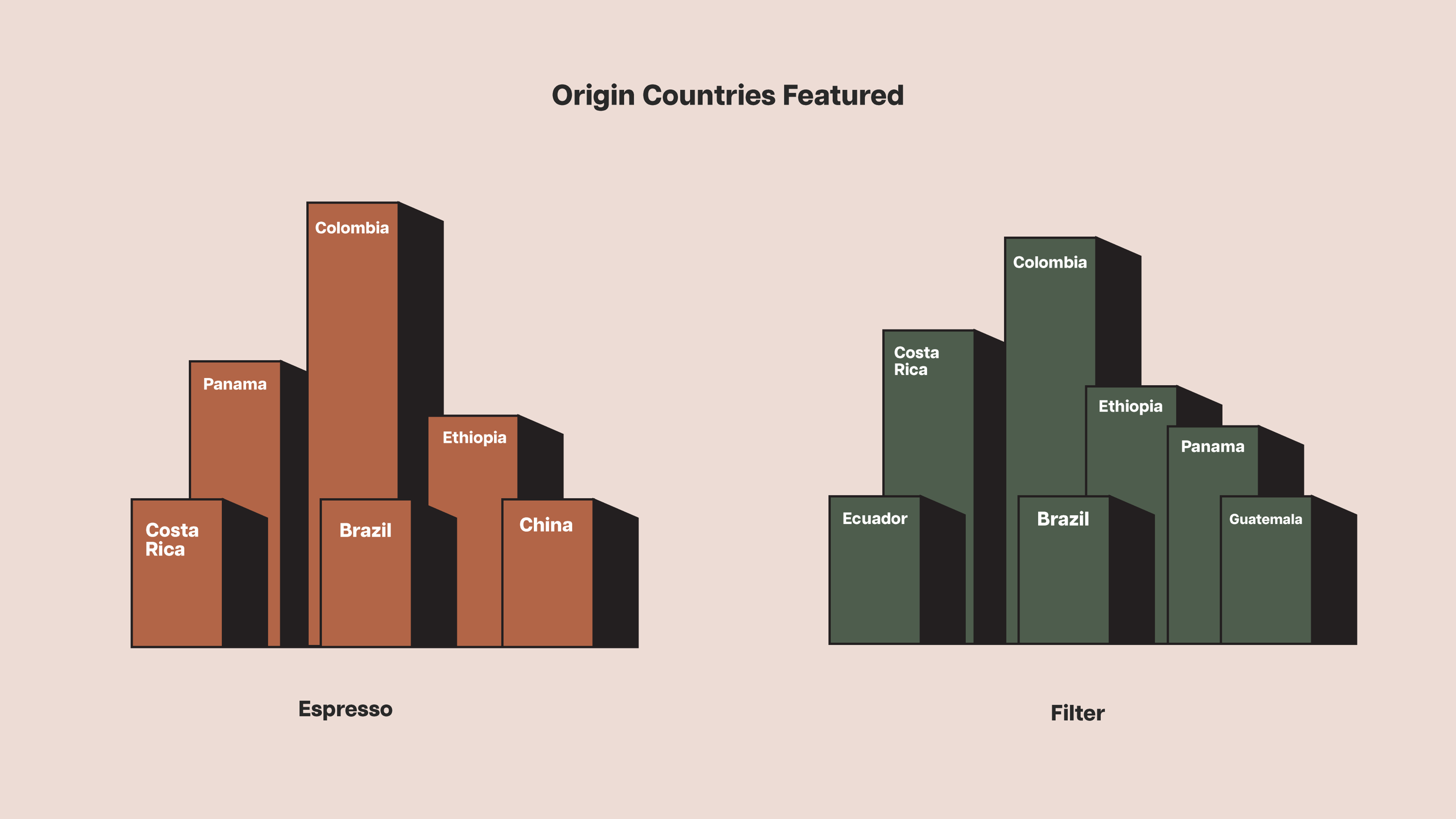 When it comes to the country of origin, a majority of our offerings came from Colombia. As a coffee producing country located on the equator, Colombia has quality offerings all year around, and we particularly enjoy working with Rigoberto Herrera of Cafe Granja La Esperanza to showcase the variety and depth of coffees that he has meticulously grown and processed to perfection.
Some surprises that really showcased the potential of up-and-coming coffee producing countries were the Niang Hong Zhuang from China which dazzled us with its distinct strawberry notes, well supported with a decadent chocolatey body, as well as the washed processed Gesha from La Hermosa in Guatemala, which was as excellent as any top quality Gesha we have had – floral, lively acidity and a smooth finish to boot.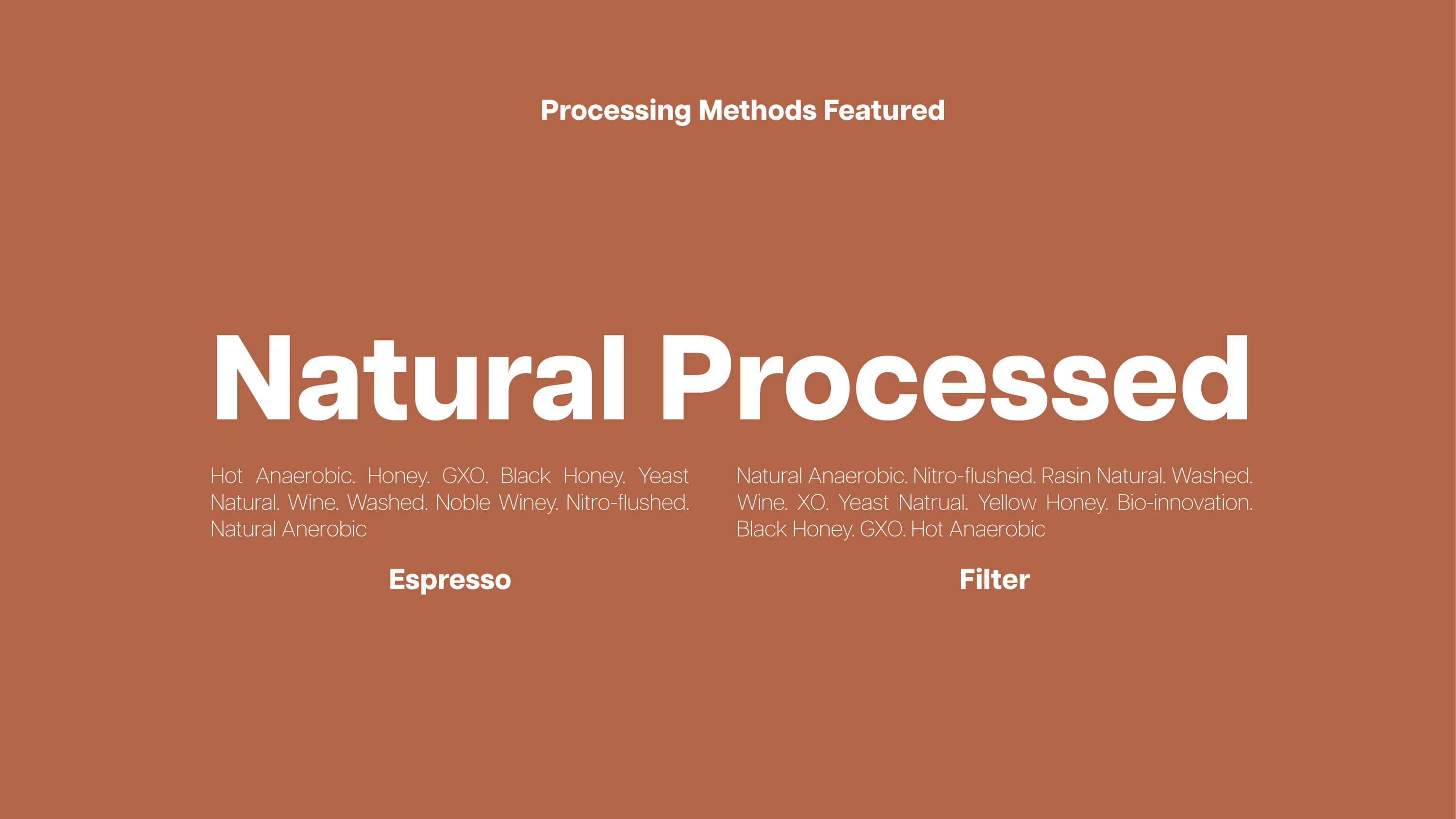 Natural processed coffees make up a large majority of offerings on both espresso and filter. The amazing and unique range of flavours a natural processed coffee can offer cannot be understated, and is a main reason behind the large number of these coffees featured for Level Up Coffee Week.
That aside, other cutting edge processes that we were really delighted to feature were the Bio-Innovation process from La Palma y El Tucan as well as the yeast enhanced natural process from Guji, two processes that benchmark the progress in the science of fermentation of coffee cherries.
With the additional help of research and expert hands at fermentation, coffee producers are gaining more knowledge and accumulating experience regarding the fermentation process. This helps them to be able to greater utilise fermentation to direct the development of coffees with good cup clarity and consistency in processing of future coffee harvests.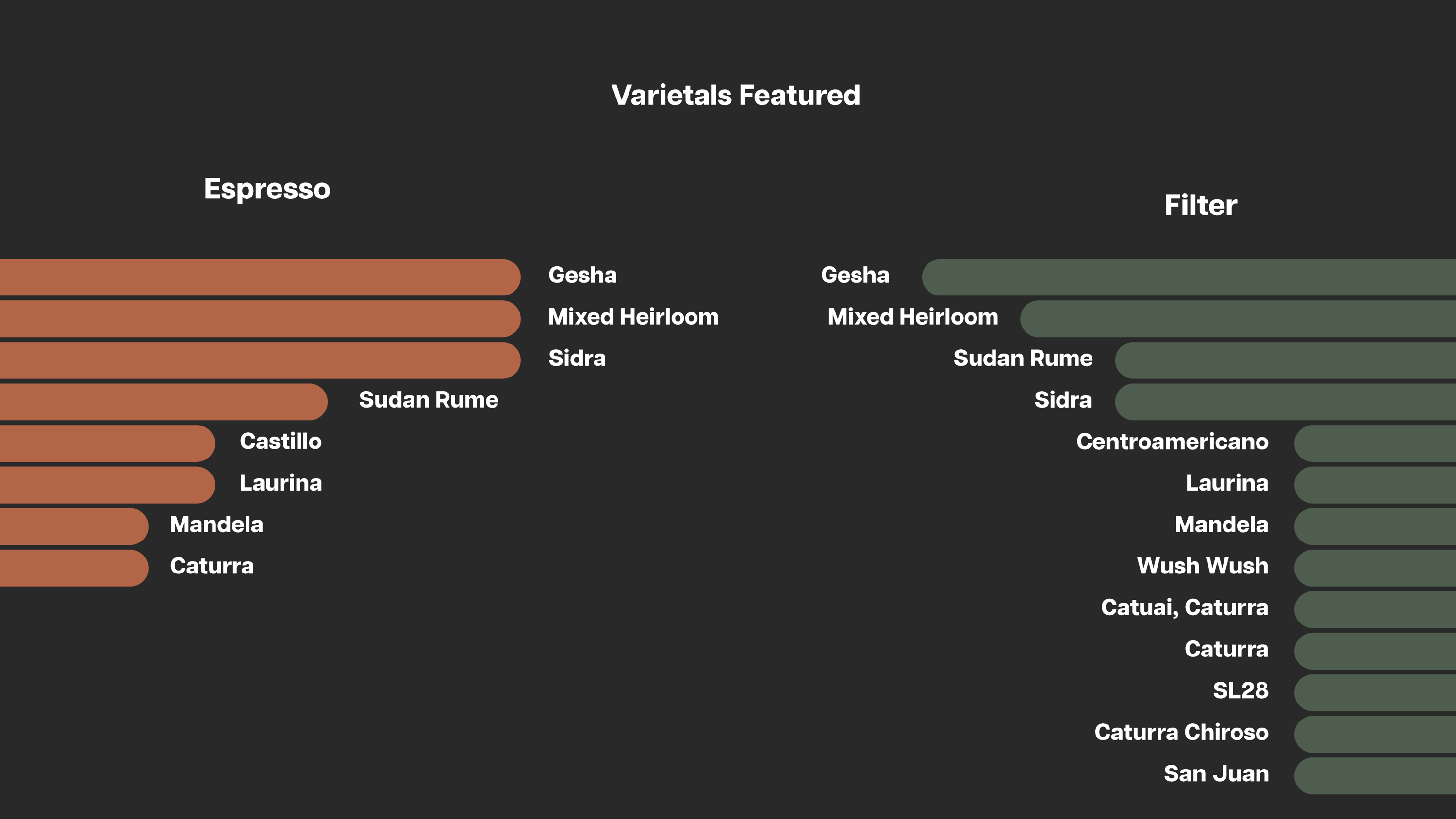 In many broad circles, premium coffees are often associated with the Gesha varietal. This is true to a certain extent, as the Gesha does consistently provide a balanced complexity in its cup profile. However, there are also many varietals that are of comparable cup quality that are worthy of attention.
The Centroamericano holds its own as a high quality F1 Hybrid varietal produced from research and experimentation, and the Sudan Rume has its own prominent and distinct and prominent spiced, minty aftertaste unlike any other. Sidra and Laurina are both flavourful varietals with an outstanding sweetness – berry-like on the Sidra, and hints of passionfruit and mango on the Laurina.
The relative homogeneity of farmed coffee varietals has always been a source of concern for scientists, and showcasing the top quality potential of different varietals is the first step in changing the mindset of coffee producers and drinkers alike.
It has been an action-packed two years journey of sourcing, roasting and bringing brand new coffees to the coffee bar, filled with many insights and learnings that we will take some time to reflect upon.
It is our mission to continue to grow and develop the community of home brewers through our work, so rest assured that this is not the last that you will hear from us.
The specialty coffee community is only growing from strength to strength, and as coffee preferences continue to improve, we will certainly be back with something else that's ready to bring you further to the next level.
---